Three Knife Trimmer Cutting Machine
Three-side trimer iCE TRIMMER HT-300
ENHANCED PRODUCTIVITY WITH CONNECTED FEATURES.
New functions bring high productivity and user friendly operation.

HIGH SPEED – The HT-300 is a single knife three side trimmer with fully automated setup features. The maximum production speed is 300 cycles per hour for increased productivity.
HIGH QUALITY – Accurate and clean cuts are achieved with precision automation and new features such as auto book thickness measuring and table angle adjustment.
LABOR SAVING – The HT-300 can be connected inline with Horizon perfect binders to increase productivity and reduce labor costs.
CONFIGURATION FLEXIBILITY – A variety of selections* for the feeder and delivery section allows for a flexible system configuration for both inline and offline production.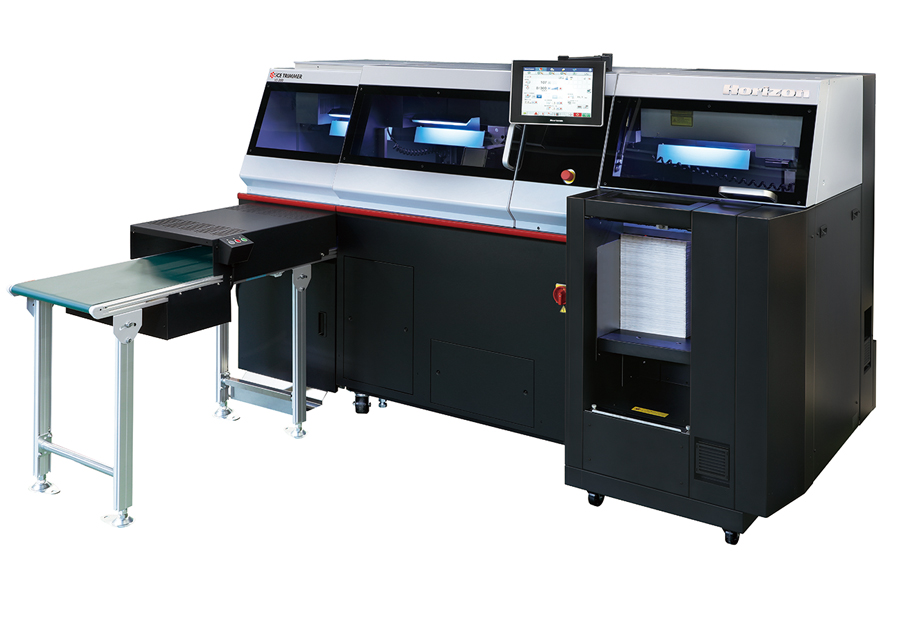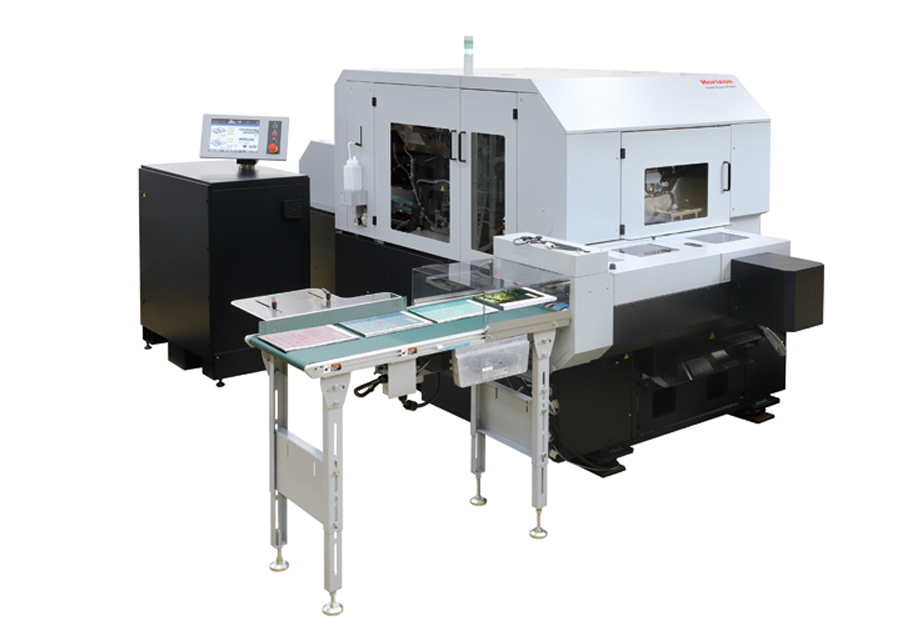 Variable Trimmer HT-1000V
The Horizon HT-1000V three-knife trimmer achieves zero make-ready on book trim size and thickness changes. Well suited for shortrun production, and book of one production can also be achieved through barcode driven set-up.
Automated set-up – The HT-1000V is set-up automatically on the fly by reading a barcode at the entrance of the trimmer. The system also is capable of automatic set-up from the operator panel for same size production runs.
Variable size trimming – One-to-one book production with variable sizes can be produced. Both untrimmed and trimmed sizes can be variable for true variable format production.
KAYM 3 KNIFE PAPER CUTTING MACHINE 46X30PLS
(10" LCD Color Touch Screen) • 1.000 programs • Job alphabetical recording system • Three blade cutting feature and also independent 1st and 2nd blade operation feature •  460 X 300 mm max cutting capacity •  Manual and Full-Automatic Working Modes • Double Hand Button Security System • •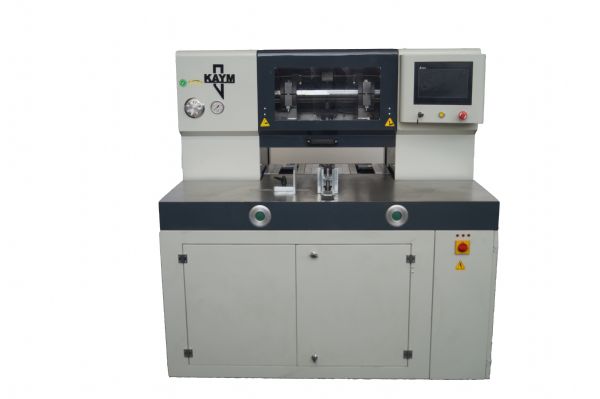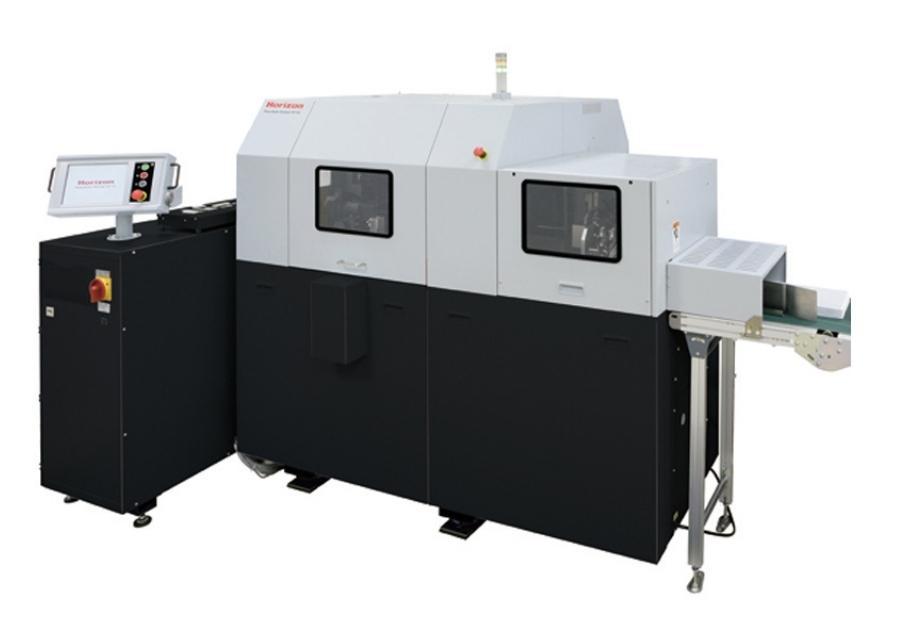 Three-knife Trimmer HT-110
Highly accurate set-ups are performed with easy and simple operation.
– Trimming cycle can be adjusted in 13 stages from 400 to 1,600 cycles per hour. By accumulating 3 books at once at the stream stack orientator, productivity of 4,000 books per hour can be achieved.
– Rigid framing and durable structure provides the utmost in trimming accuracy.
Three-knife Trimmer HT-80
The HT-80 automated three knife trimmer can be used off-line or in-line for fast, efficient book production.
Automated Set Up – Most sections can be set up automatically by inputting the untrimmed size and fi nished size into the intuitive color touch screen for quick and accurate change over.
Servo Motor Driven – Servo motors are employed for accurate positioning of the book block. Also, through the touch panel screen, the pressure of the press is adjusted automatically so that no mark remains on the trimmed book. Oil less control for environmental friendly operation.
High Quality Finish – Rigid construction and heavy-duty mechanisms ensure consistent, accurate quality.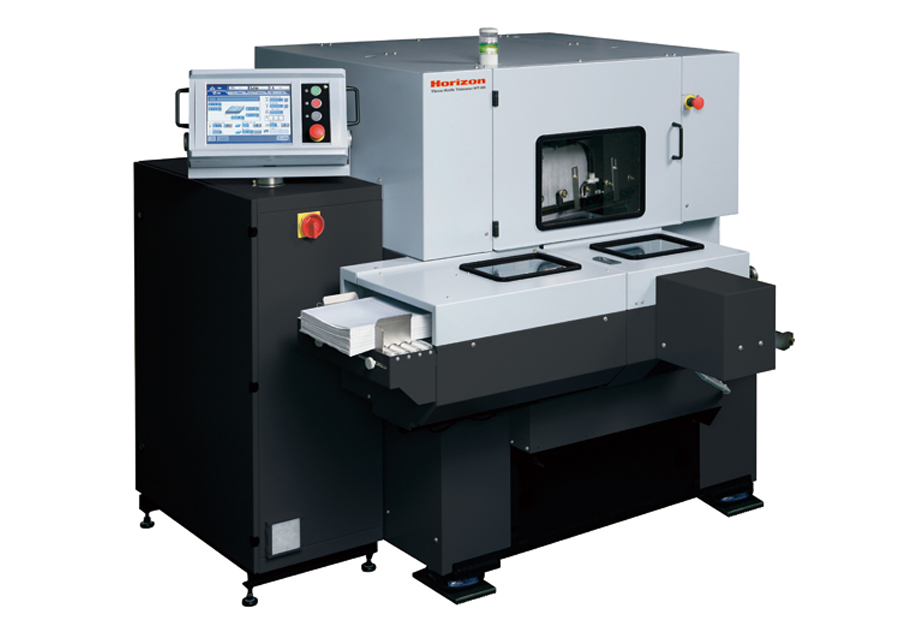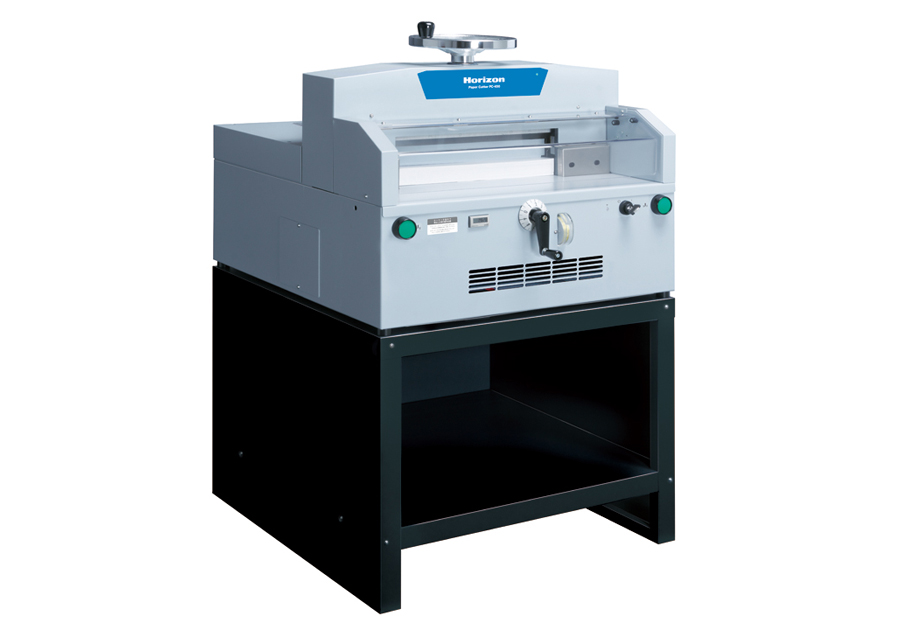 With the cutting capacity of even A3 long-side width and maximum lift 70 mm/ 2.75". Easy cutting operation by simply pressing the cutting buttons.
Accurate Cutting – The backgauge enables you to adjust the cutting length accurately by 0.5mm/ 0.019″.
Cutting line – The LED cutting line shows the actual cutting position. It allows the safe and smooth operation.
Safety – The PC-450 is activated only when the two cutting buttons are simultaneously pressed. The machine does not operate when the front cover is opened. Also, if either of two cutting buttons is released during the cutting operation, the machine stops immediately. There is also the cover on the back of the table for the maximum safety.
JDF Workflow – The system can be further enhanced with Horizon's pXnet bindery control system which integrates JDF workflow from upstream devices.
Table-top Paper Cutter for office efficiency and cost savings.
Dual Push Buttons – The PC-P430 is activated only when the safety cover is closed and both cutting buttons are simultaneously pressed. The two buttons are suffi ciently spaced to ensure operator safety.
Safety Full Cover – The front cover will not open during the operation. The full cover keeps your fi ngers away from the moving part.
Cutting Line – Illuminated cut line conveniently identifi es the cut position for easy sheet positioning.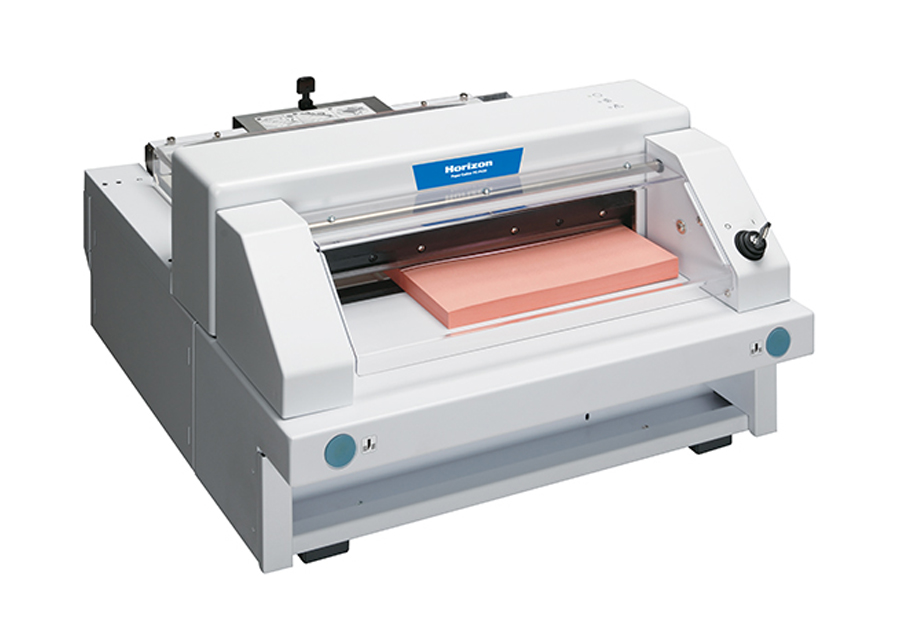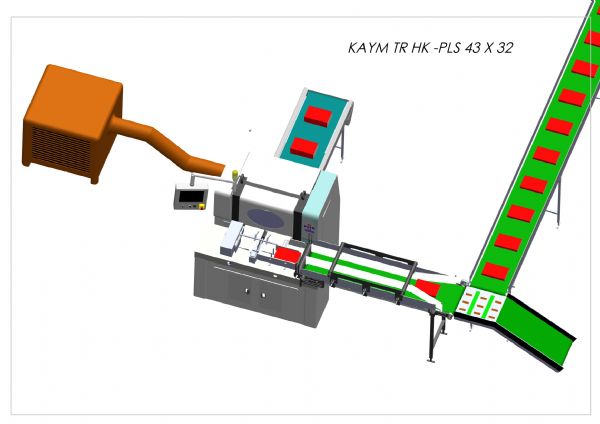 KAYM 3-Knife Cutting Machines / KAYM TR HK - PLS 43 X 32
* Color Touch Screen *1,000 programs *Work alphabetical registration system  •  Full-Automatic Working Modes  • Double Hand Button Safety System• There is a vacuuming system that will allow the scraps from the blades to be thrown into the scrap collection area  •  In cases where the three-edged blade unit is disabled, there is an additional emergency exit conveyor before the conveyor is connected to the unit * It can perform single and multiple cutting (system with pool) * There is an audio and light warning system in case of a three-edged machine malfunction * Fault codes will be indicated on the touch screen * Incorrect There is a warning system in case the book is loaded and the machine covers are left open * Traveling cutting dimensions will be provided with an automatic servo motor * There is a silicone squeeze and spray system to prevent glue sticking *