Automatic Book Binding Machine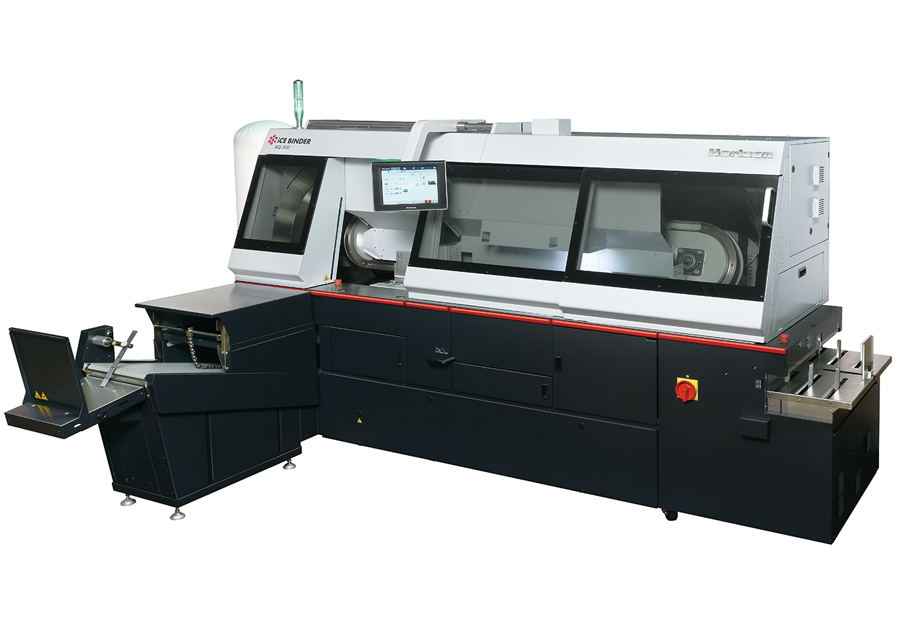 Perfect Binder iCE BINDER BQ-500
NEXT GENERATION BOOK BINDER WITH CONNECTED FEATURES. HIGH PRODUCTIVITY 
The BQ-500 excels at and is the most productive binder for book-of-one production. In addition, productivity is increased on longer runs with decreased set-up time and improved system effi ciencies. HIGH QUALITY – A uniquely designed template feature produces high quality books even with a non-skilled operator. Knowledge from a skilled operator can be stored in custom templates to produce consistent high quality books by any operator. EVA & PUR – The BQ-500 supports both EVA and PUR hotmelt glue. Two diff erent tanks are available and interchangeable for each glue type. CONFIGURATION FLEXIBILITY – The system can be connected with various options to extend capabilities. A cover slitting unit, cover reject unit, elevator unit, glued book block feeder, loose sheet book block feeder, and in-line three knife trimmer are all available options with the BQ-500.
Superior binding quality and effi cient operation.
PUR Perfect Binding – High quality PUR binding is assured with dual application drums and separate EVA / PSA side glue application. Drum application enables production of one to one variable thickness books with maximum quality control. Extended spine length – Maximum book size is 385 x 320 mm/ 15.15″ x 12.59″ and the maximum book thickness is 51 mm/2″. Variable thickness production – Built in thickness caliper provides greater production effi ciency for instant changeover and variable thickness book production. The BQ-280PUR provides unsurpassed production effi ciency in a single clamp binder. EVA Glue – Low temperature EVA glue (140 °C / 284 °F or below) can be used. The system can be used for both PUR and EVA with the same tank.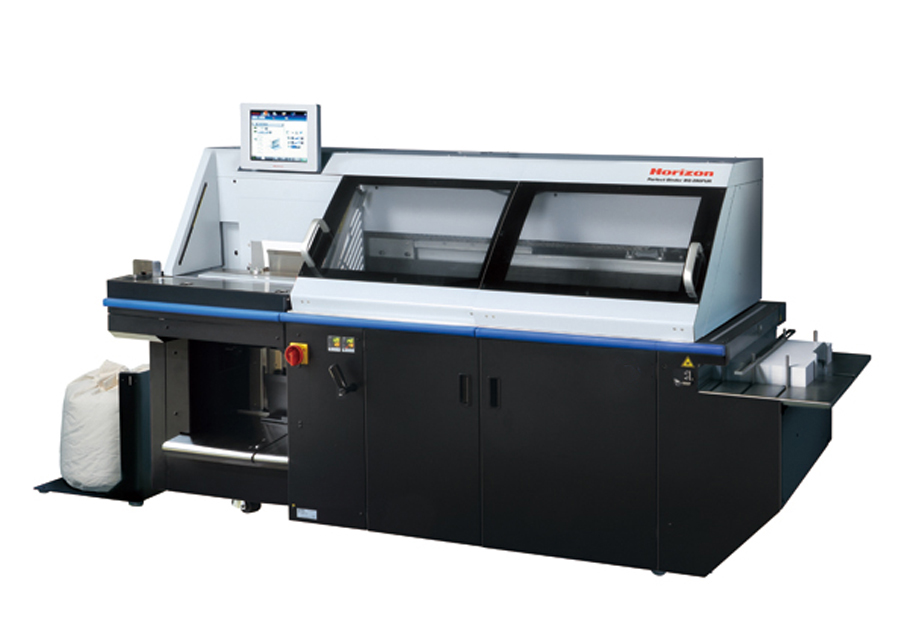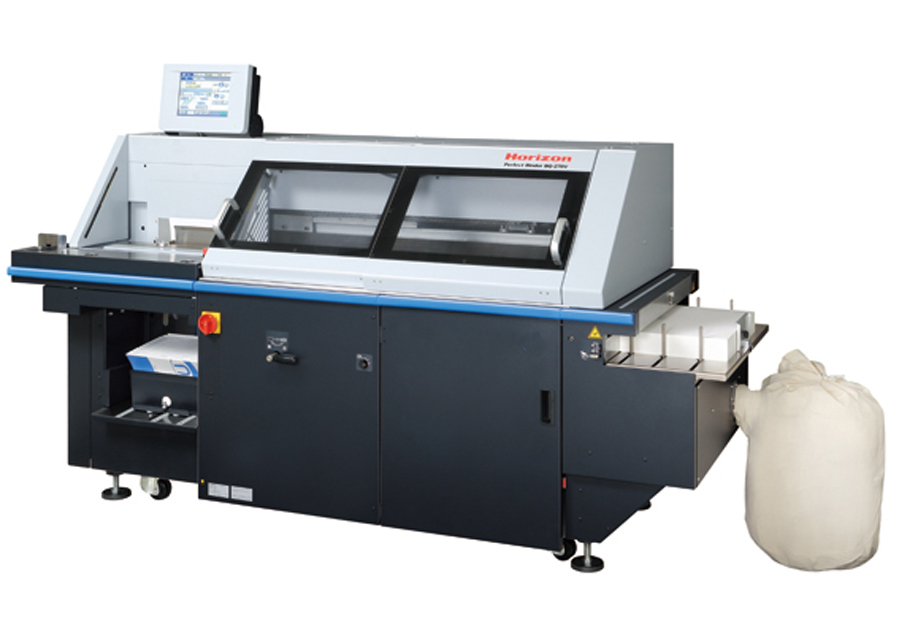 Professional quality from a binder that's simple to setup and easy to use. Automated book thickness caliper comes standard for greater production effi ciency.
User-friendly and Highly Accurate Binder – Horizon's expertise in binding and advanced automation combine to allow even low-skilled operators to produce professional quality books. User-friendly operation and precision automation achieve short set-ups with little or no make-ready.
Quick Setup – All setups can be done instantly by simply inputting book block and cover information into the 10.4" color touchscreen. A changeover from A4 to A5 size book can be completed in 10 seconds.
Simple touchscreen operation and an efficient binding procedure achieves production rates up to 180 cycles per hour.
Color Touchscreen – A graphical icon-based color touchscreen is provided for easy set-up and operator navigation.
Notching Section – The double-pass notching function produces strong book binds.Notching can be easily set ON or OFF from the touchscreen.
Glue Tank Section – Uniquely designed glue tank ensures superior glue application to the book spine for quality binding.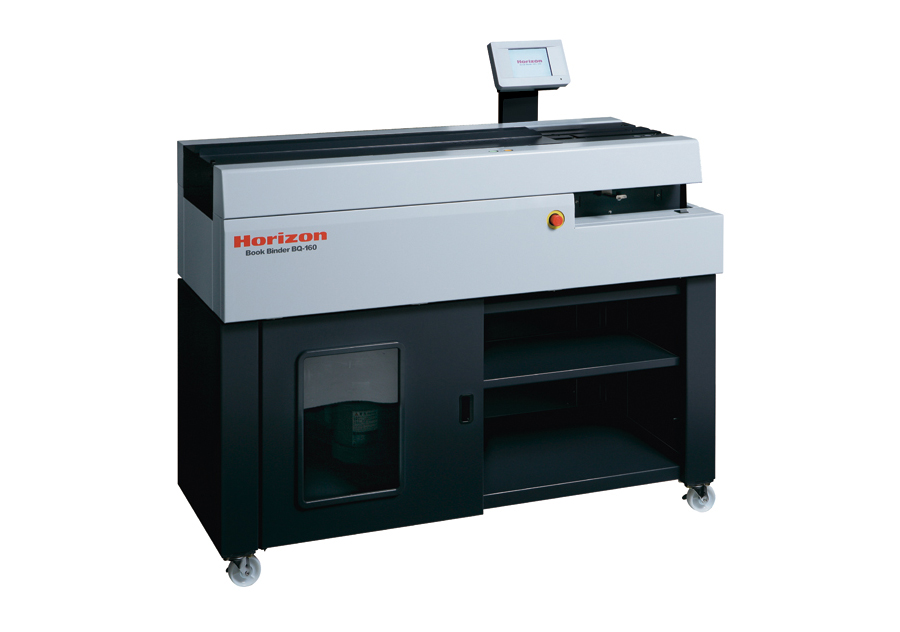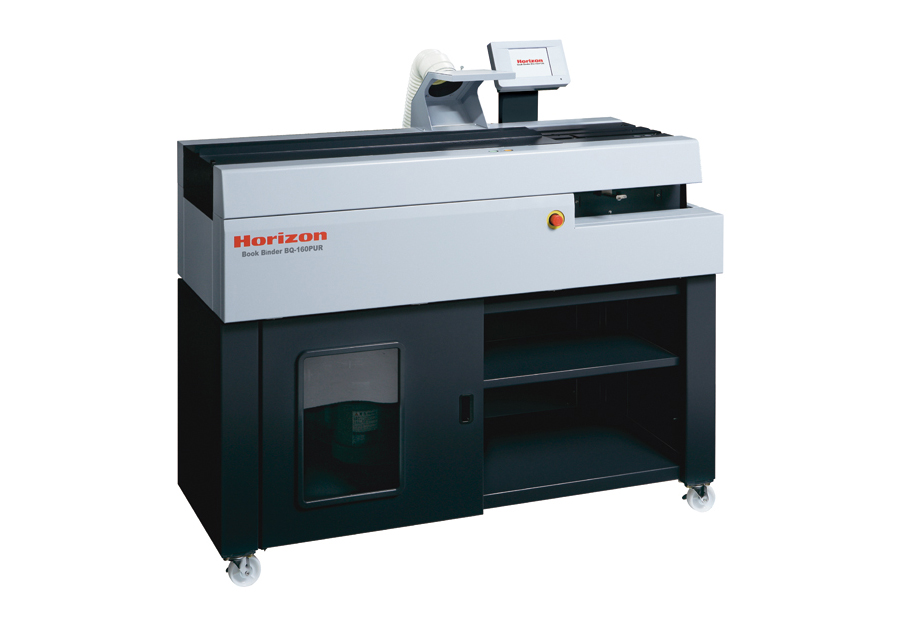 True book of one PUR bound book production with simple operation.
– Suitable to produce personalized photo book production such as wedding albums and travel albums.
Perfect binding, tape binding and lining binding (for case binding) can be performed.
– Up to 40 mm/ 1.57" thickness of book can be produced.
– Optional CRB-160 impact creaser can be on-line to prepare creased (up to 8 line) cover.
Superior binding quality and effi cient operation.
– Impact scoring position is set automatically according to the book thickness inserted into the BQ-160.
– Clean and sharp impact creases can be made even with heavier and laminated stock.
– Stand alone model is also available with an integrated touch screen operation console.
– A wide variety of impact scoring patterns can be selected from the touch screen.
– Suitable for crease covers, restaurant menus, greeting cards and all digital print applications.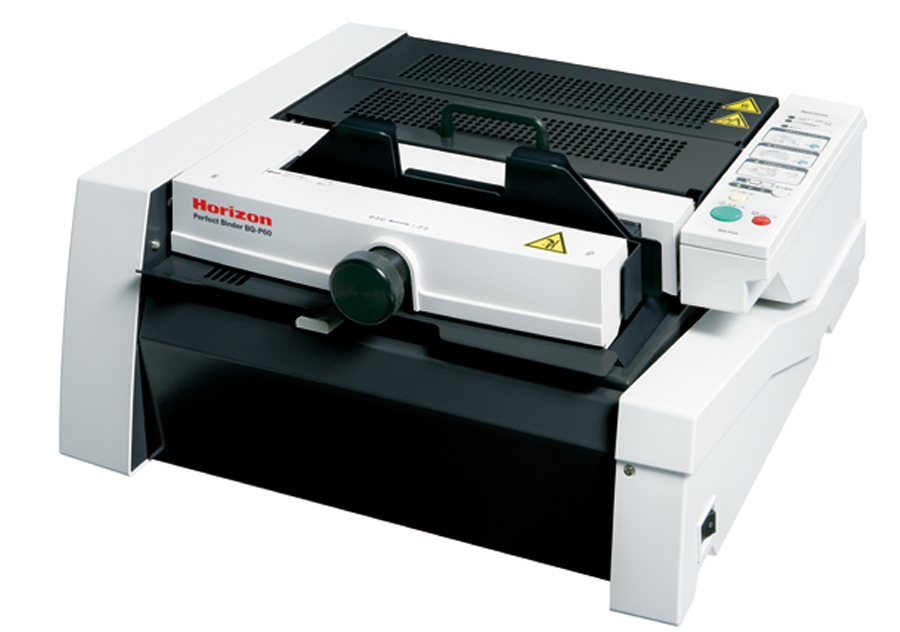 Table-top Perfect Binder BQ-P60
Superior binding strength and compact desktop design make this the ultimate office binder
Easy operation – The display indicator lamps on the operating panel guide you through the simple operating steps
High productivity – 180 cycles/hour
Professional binding quality – A cover is glued to the book spine and then clamped to create an attractive finished appearance
Flexible binding styles –Choose from three different binding styles — Cover Binding, Tape Binding, Pad Binding